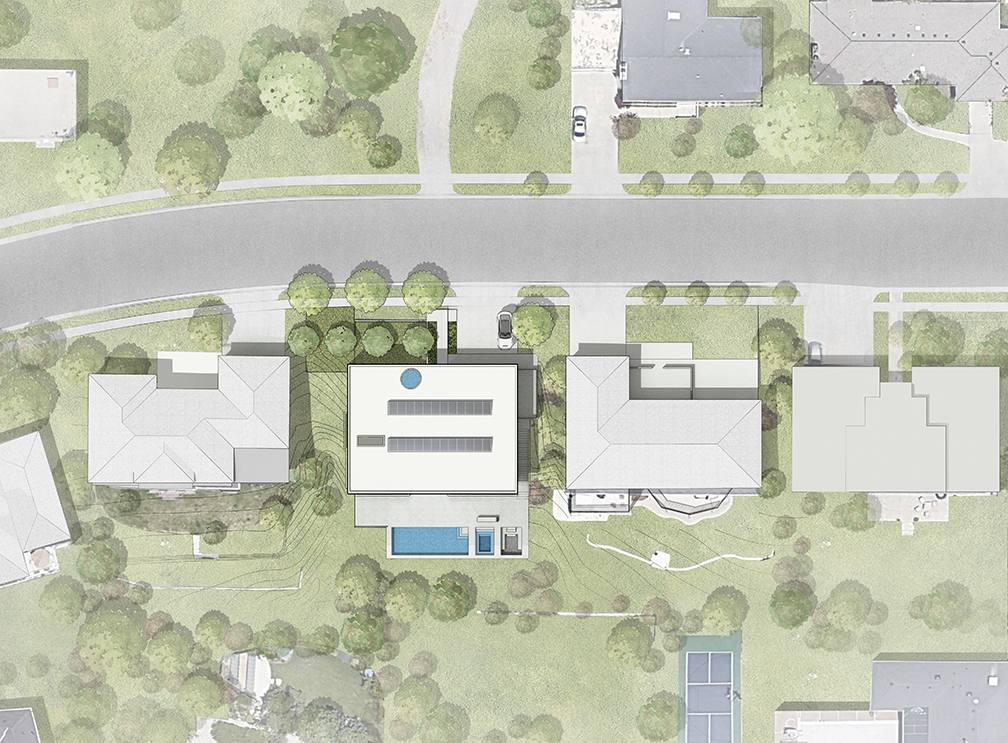 Oikos RESIDENCE
The site for this home is located along a mountain ridge with spectacular panoramic views overlooking the city. The passive design takes full advantage of the solar path and captures dramatic views including the Wasatch mountain range to the east, and valley and city views to the south and west, with city lights creating a sparkling horizontal field below at night. The design team explored ideas of western mountain architecture and its materiality, proportions and architectural form. The foundation of the home emerges from its steeply sloped site with a textural board-formed concrete plinth with exaggerated joints incorporated to create coarse vertical fins.
The street elevation is a refined minimalist form detached from is textural foundation through a 12" recessed reveal detail that makes the home appear to float above the site. The main level volume is clad with large format natural limestone panels hung with a clip system on a framework. The interior design accommodates an international photography collection, a glimpse of which can been seen from the street. Passing through the screened entry, Atta Kim's image of Fifth Avenue greets the visitor arriving at a sky lit entry with a bubbling water feature.
The home interior was designed by the architects and lighting designer to celebrate the views with a material palette of stone, wood and bronze. Aging in place is accommodated through universal design and planning to allow the house to evolve over time to incorporate an elevator and consider new lighting and acoustical cues. The residential program includes family suites, living and entertaining spaces, kitchen and dining spaces, an office, a pool, spa and gardens. The home was designed to meet LEED-H (Leadership in Energy and Environmental Design for Homes) sustainability standards and is powered by solar panels.